Welcome
We provide Stand Up Paddleboarding lessons, adventure tours and board hire on the wonderful Ullswater in the Lake District.
Our instructors are qualified through the British Stand Up Paddleboard Association to ensure your safety and enjoyment at all times.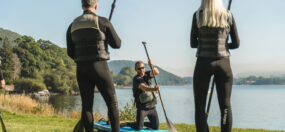 Lessons
We offer a range of courses depending on your ability. Our introductory lesson will get you standing up and paddling around. Once you've mastered the basic skills you can then...
Find out more ›
Tours
Ullswater SUP Tours are simply stunning! We will take you on a journey of discovery through one of the UK's most beautiful landscapes. These guided tours are a great way to connect with the outdoors...
Find out more ›
Hire
If you've already mastered the basics you can just hire our boards and be free to make up your own adventures here on Ullswater. We have a range of the most up-to-date equipment...
Find out more ›